We are pleased to answer your queries
if you would like to stay at
Mas Artivan, in Bédoin, Vaucluse.
+33 (0)6 24 20 16 02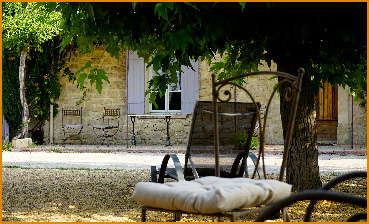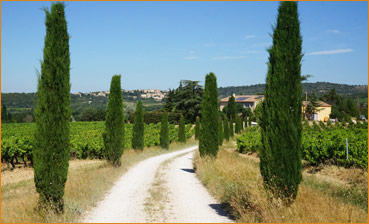 As a majestic avenue of cypresses parts before you, with sweeping vineyards on either side,
Provence stretches up to the azure sky echoing with the song of birds living on the grounds of the Domaine du Van…

In the distance behind the poplars, Bédoin can be seen at the foot of Mont Ventoux, the watching "Giant of Provence", while Crillon-le-Brave stands out in the plain of Comtat Venaissin.
In the midst of this lush landscape, from dawn to dusk, sunshine paints the horizon in delicate and elegant hues that Mas Artivan will share with you. This unique site welcomes you for a stay imbued with authenticity underneath the Provence sky.
Leaning against the cellar of Domaine Le Van, an organic winery, Mas Artivan faces the vineyards, preserving its own privacy thanks to a separate entrance and looking out to a lush landscape as far as the eye can see. How amazing to stay in the midst of this vineyard land, giving you the opportunity to discover it by meeting its owner and grower, the passionate and fascinating winemaker Christophe Solas.
But Christophe Solas also has another passion to share: sports—bike riding in the surrounding countryside, breathing in nature and its bright and ever-changing colours throughout the day…
Hear the whispers of the ancient, time-weathered stones of Mas Artivan, enjoy shared moments on the patio, feel refreshed in the crisp swimming pool waters below and experience the freedom of the vast tree-lined garden with its various areas imagined and arranged especially for you, extending in the lush countryside with vineyards stretching as far as the eye can see.
Where dreams become reality !
Stay at Mas Artivan with family or friends, and discover the authenticity of Provence, with the riches of its land, its sunny, colourful and delicious cuisine, and its wines of character…
Your stay at Mas Artivan will be memorable, with a whole cultural, gastronomic and historical heritage waiting for you to experience Provence in a different and full-on way.

Born locally, he decided to become a "neo-winemaker"
after a career in France and abroad.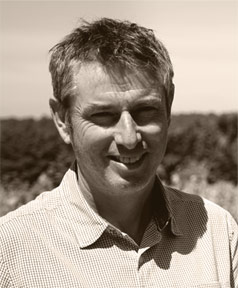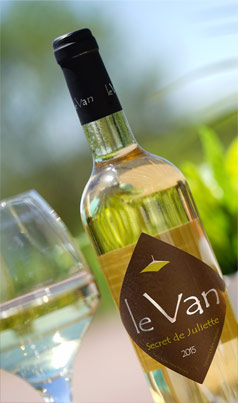 Back in his home region in 2016, he gradually warmed to the idea of ​​purchasing a winery through the catalyst of new experiences and activities such as meeting winemakers, oenologists, visiting various wine shows but also reading about vineyards, winemaking, and cultural practices, among others.
Over the months, he relentlessly built up his knowledge and immersed himself in a world that fascinated him. It resonated in him with a characteristic simplicity.
He did not deem his plan unreasonable, nor did he feel carried away by wild instinct. Quite the contrary, he felt the pull of what he had always known within his family–the all-encompassing Love of wine! So he imagined and dreamt his plan, knowing exactly what to look for.
After graduating in Viticulture and Oenology at the Université du Vin in Suze-la-Rousse (Vaucluse), he experienced love at first sight! In December 2017, he purchased the Domaine Le Van in Bédoin, where organic vines had been grown since 1994 on 20 acres of various types of vines, all of them on average over 30 years old. He literally fell in love with its chapel-like cellar, built in 2007. The estate's agronomist and oenologist remained at his side for this new, exciting venture.
He then decided to renovate the estate farmhouse or "Mas" next to the cellar and called it Mas Artivan, making it a holiday rental available throughout the year. Sharing this truly idyllic setting as a dream holiday place nestled in the vines felt obvious to him, along with the pleasure of introducing people to life in the heart of the vineyards.
He is waiting for you there with that broad, radiant smile of his… Welcome!