We are pleased to answer your queries
if you would like to stay at
Mas Artivan, in Bédoin, Vaucluse.
+33 (0)6 24 20 16 02

Walk past the intricate wrought iron gate and discover the delightful Mas Artivan.
A big, recently renovated, large capacity character farmhouse with a picturesque outbuilding (5 bedrooms in total) welcomes you in a typical Provençal atmosphere.
The Mas boasts a large, comfortable living room and a very spacious, fully equipped kitchen with a magnificent view over breath-taking scenery. Enjoy shared and relaxing moments in the conservatory at the back of the house, with its unique and bright glass roof and smooth cobbled floor. Mas Artivan also has a relaxation area dedicated to well-being and sports massages.
Outside, the pergola brings a soft shade to the patio and the cypress leaning against the front greets you with a burst of the cicadas' happy song. Further below, the lush scenery unfolds towards the plain, with vineyards stretching endlessly, while the village of Crillon-le-Brave seems to be greeting you in the distance.
The landscaped garden boundlessly covers the whole estate. The quiet swimming pool and its pool house are waiting for you! A picturesque outbuilding next to the swimming pool can accommodate a further 2 people with a baby or toddler. You will feel like there is no else in the world!
De l'autre côté du Mas, le Mont Ventoux, notre Géant de Provence, se dresse majestueusement et veille sur vous. À ses pieds, Bédoin se dessine derrière une rangée de peupliers…
Toute la nature environnante s'invite à vous pour des randonnées pédestres ou à vélo en famille ou entre amis…
Mas Artivan in Bédoin is an invitation to savour the most precious moments of life such as those of a holiday.
In brief
Weekly or monthly bookings (except in September).
For 10 people with 2 babies or toddlers (extra beds provided)
371 m²/4,000 sq. ft. one-storied farmhouse (4 bedrooms including 2 master suites) and a charming 53 m²/570 sq. ft. outbuilding (1 bedroom, 1 bathroom, and toilet)
Internet in the farmhouse, outbuilding, garden and swimming-pool
Estate surface area 10,210 m²/2.5 acres
Private open parking area
Lock-secured bicycle/mountain bike shed (9 square metres/97 square feet shed)
Large, open, leafy, landscaped garden
Swimming pool ith underwater safety alarm. 6.75m x 12.50 m, depth: 1m10 (shallow end) to 1m40 (deep end).
Fully equipped pool house
The premises are strictly non-smoking, although there is an outdoor area for smokers
Sorry, no pets
Mas Artivan is 1.5 km from the village centre of Bédoin, 200 metres north-west of the secondary road D 974 linking Bédoin to Carpentras. It is a 45-minute drive from Avignon TGV (high speed train) station.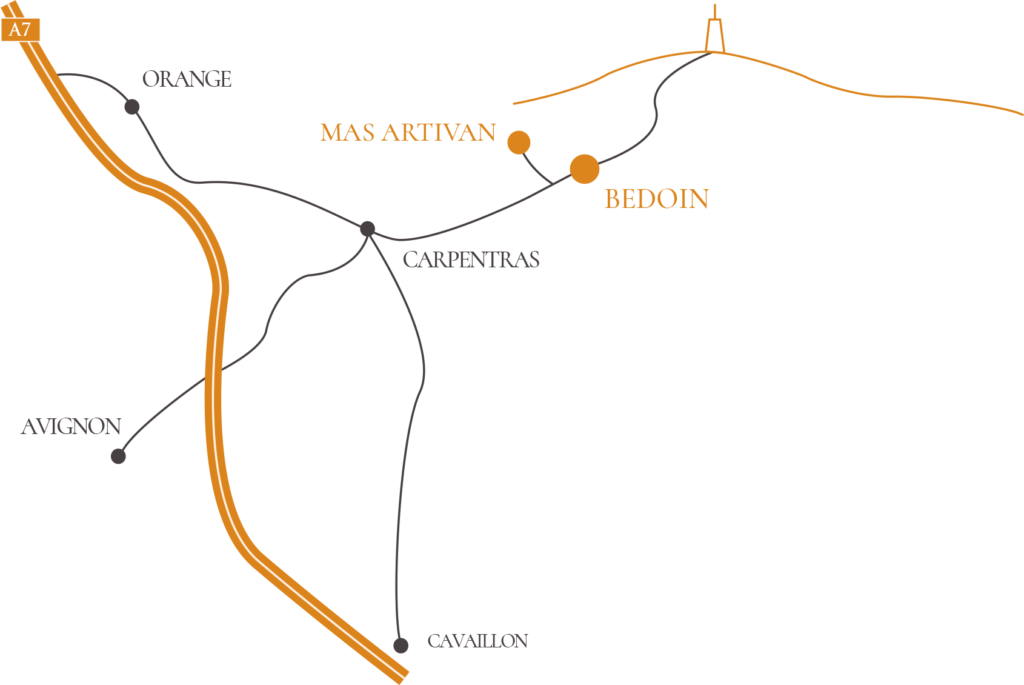 A charming garden for a heart-warming home!
A truly beautiful garden inspiring freedom and serenity.
It covers the whole estate and blends in softly beyond with the lush landscape near and far: a scenery worthy of a great master, Mother Nature itself! Truly memorable!
The various landscaped areas give you spaces to enjoy exactly as you wish and see fit.
Feel cocooned in a peaceful haven surrounded by lush vegetation and cherry, olive, and mulberry-plane trees so typical of Provence.
A large swimming pool to cool you down in blue waters.
The swimming pool and its lovely patio are waiting for you in Mas Artivan's lush garden to enjoy a relaxing and refreshing dip.
Bask in the majestic view onto the endless vineyards of the estate and far beyond.
You can truly bathe in magnificent nature as you come out of the water. Perfect harmony.
A fully equipped and shaded pool house allows you to take full advantage of a space dedicated to resting and enjoying a swim with everything at hand.
A dream holiday!
> Swimming pool with underwater safety alarm, 13m long x 6m wide x 1.5m deep, with sun loungers and relaxing area.